[Versus] is the system to decide the best player in 1:1 matches.
VOnline match services that uses the dual camera of VSPHOENIX machines are now available!
You can also separately check the match records of online camera matches in the [VERSUS CAMERA] page in My Page.





Select ONLINE from the main menu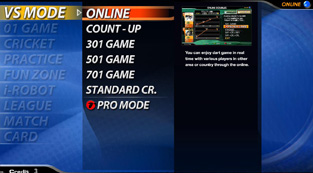 VS MODE > Select ONLINE
Touch your PHOENIX ONLINE CARD to the machine when instructed by the machine.

Select Singles game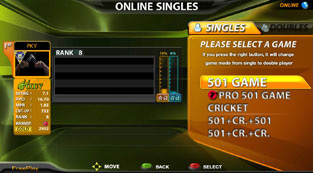 Select Singles> 501 , Cricket, Medley
※Games that provide VERSUS games are 01GAME and STANDARD CRICKET.

Challenge matches in the pages of each game channel!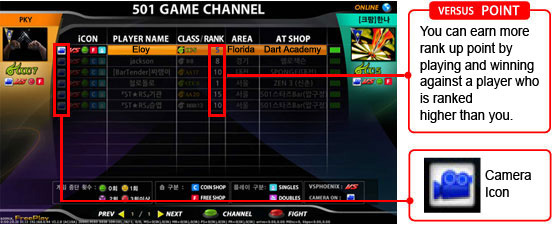 List of players waiting for matches is displayed. Players with an icon in the [Icon] category are capable of camera matches. Use the buttons to select your opponents, and then press the red button (Enter button) to confirm





Match Confirmation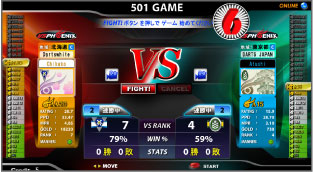 In case of challenging a player or being challenged by a player, press the red button (Enter button) to confirm.




Switch the order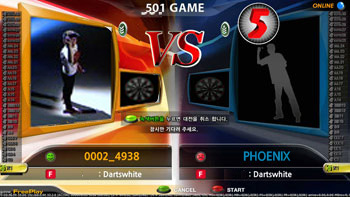 Player to go first is decided by the coin toss of the machine. This is displayed in both cameras.







GAME START!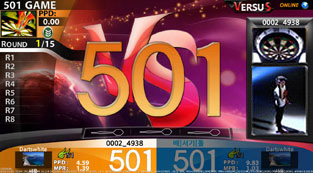 GAME START!
During the game, you can view your opponent as well as his/her target board.
Enjoy an exciting match with camera matches!